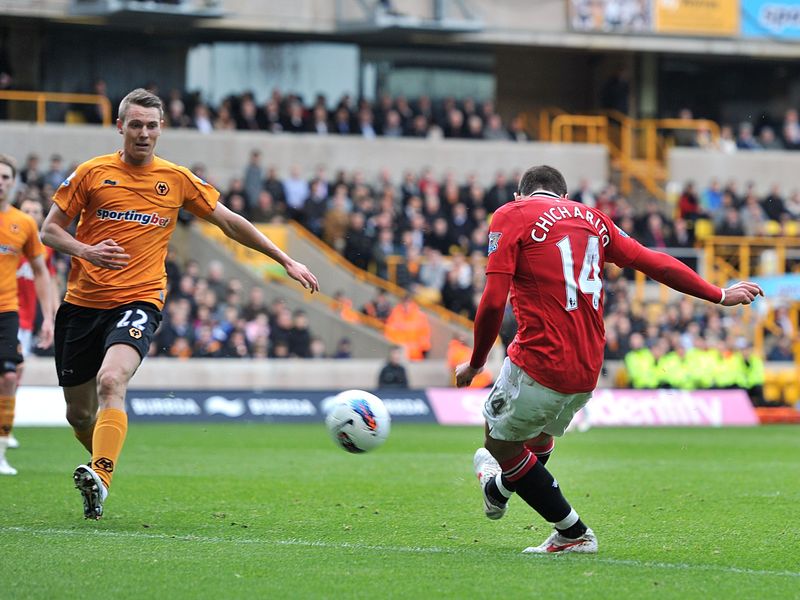 Manchester United travelled to Molineux Stadium on Sunday to rebound from being bounced out of the Europa League by Athletic Bilbao. United came into the game with a 1 point lead on Manchester City, and must have felt good for their chances against a team that is currently involved in a relegation battle and being led by caretaker manager Terry Connor after dismissing Mick McCarthy 4 games ago. This game gave United a good chance to go 4 points ahead at the top of the table, with City not playing until Wednesday against a resurgent Chelsea.
Manchester United (4-4-1-1)
Manchester United came out in their usual 4-4-1-1, but Sir Alex Ferguson kept some the same attacking edge that he used a week ago against West Bromwich Albion. David De Gea has kept his starting place in goal, and it seems likely that even when Anders Lindegaard recovers from his ankle injury that he'll need to take a backseat for the Spaniard.
Sir Alex went with his first-choice center-back pairing of Jonny Evans and Rio Ferdinand, even after using the pair on Thursday against Athletic Bilbao. The one surprise start in the back four was Rafael at right-back, considering how he struggled against Iker Muniain with Athletic Bilbao. Patrice Evra started in usual position at left-back, wearing the captain's armband again as he has most of the season.
Paul Scholes and Michael Carrick started in the center of the midfield, with Carrick being taken off after only 60 minutes against Bilbao on Thursday. On the right wing, Antonio Valencia made his return after a hamstring injury that has kept him out since the first game against Ajax almost a month ago. Again, Sir Alex Ferguson started Danny Welbeck on the wing like he played the previous weekend against West Brom, but this time Danny Welbeck was on the left side of the midfield instead of the right. This gave Ashley Young a chance to rest on the bench after having some excellent outings lately. Javier Hernandez got the start up front, with Wayne Rooney returning to his usual position playing just behind the lead striker.
Wolverhampton Wanderers (4-5-1)
Wolverhampton Wanderers started the game in a 4-5-1, in hopes that the extra man in the midfield will deny Michael Carrick and Paul Scholes the time that has proven so lethal for United's opponents this year. Wayne Hennessey got the start in goal, struggling with a makeshift Wolves defense that has made it 28 league games this year without a clean sheet.
The team captain, Stephen Ward, got the start at left-back while Terry Connor decided to start Sebastian Bassong, on loan from Tottenham, and Richard Stearman at center-back. Getting the start at right-back was Ronald Zubar, who struggled in a short day on the pitch.
Wolves started with 2 holding midfielders in David Davis and Kevin Foley. Starting just ahead of the holding midfielders was David Edwards, trying to provide a bit more attacking punch in the midfield. On the left wing was Matthew Jarvis, and Kevin Doyle got the start on the right wing. The lone striker up front was Steven Fletcher, who has been Wolves best scoring option this year with 10 goals in the league.
First Half
United started off with the first real chance on goal, stemming off an aggressive forward run by Rafael in the 9th minute. Rafael gave the ball to Valencia on the right side, and continued his overlapping run. Valencia brought the ball inside, and slid it forward into the penalty area for Rafael who had easily made it past Wolves left-back Stephen Ward. Just at the edge of the 6-yard box, he puts an inviting pass across the goal mouth which Chicharito is just inches away from getting a leg on it to deposit it into the empty net.
With Scholes and Carrick in the midfield, United had their best midfield pairing of the year but they played in slightly different roles. Normally Carrick plays deep, assisting with defense while Paul Scholes plays ahead. Against Wolverhampton, Michael Carrick was more aggressive going forward on the attack while Paul Scholes sat deep in the midfield, and put his long accurate diagonal passes out to the wing with great accuracy. With Wolves putting no pressure on United's midfield, Carrick and Scholes were both given plenty of time on the ball and they both had great completion numbers on the day. Paul Scholes managed to play the entire 90 minutes while only missing 2 passes, and Carrick played his usual short sharp passes but was also busy getting forward onto the edge of the penalty area.
While Wolves applied no pressure on United's central midfield, Manchester United was more aggressive in marking and challenging Wolverhampton when they had the ball. After the first game against Athletic Bilbao, where United's midfield sat deep and gave Athletic's midfield plenty of time on the ball which they used to carve United's defense apart with picture-perfect passing, United seemed determine to not make the same mistake against Wolves. Paul Scholes and Wayne Rooney seemed determined to shut down the Wolves midfield quickly whenever they touched the ball, leaving Steven Fletcher alone up front with no service. During the game, Steven Fletcher eventually started dropping into the midfield to gather the ball.
While Fletcher struggled to get the ball in a forward position, Wolves got their first real chance of the game in the 17th minute. Wolves finally got a fair bit of possession, and moved the ball to left-winger Matt Jarvis. Jarvis was able to put in a very good diagonal cross to Steven Fletcher near the far post. Fletcher is able to get the better of Rio Ferdinand in the air, but isn't able to get enough of the ball and it goes wide for a goal kick.
Sir Alex Ferguson decided to start Rafael at right-back, which was a bit surprising after the problems he had during both games against Athletic Bilbao. He was aggressive going forward, making several good contributions to United's attacks and even got the assist on United's fourth goal. But, just like the games against Athletic, he got caught out of position by several of Wolves counter-attacks. In addition, he was whistled a few times for some poor decisions, and got caught in the 42nd minute when he put a poor tackle in on Matt Jarvis, who avoided it and just missed out on a good opportunity.
Wolves struggled as they had no speed in their counter-attack, which allowed United's defense the time to regroup and regain their shape. The lack of speed proved essential for United, as this allowed Rafael time to track back as he continued his aggressive forward.
In the 22nd minute, United put the first goal in. Wayne Rooney put a long corner to the far post, where Michael Carrick had completely lost Stephen Ward and was able to easily put the ball back across the goal mouth where Jonny Evans took a half volley that gave Hennessey no chance to make a save. Wolves' marking on this set piece was embarrassing as Michael Carrick was able to easily evade Ward with a simple drifting run to the far post, but that was nothing compared to the abysmal marking by Richard Stearman on Jonny Evans. Evans was left alone inside the 6-yard box, with nobody in a Wolves shirt within 3 yards of him.
Danny Welbeck got the start on the left wing, after his good showing on the opposite wing last week against West Brom. While he started as a left winger, he played most of his game playing very narrow. Chicharito played up front, hanging off the shoulder of the last Wolves defender trying to get in behind the line. In the last 2 games, Hernandez has become much more willing to drop deep to gather the ball in the build-up. Instead of just sitting on the defense, trying to get behind them, he's picking out good chances to get behind them, while dropping deep when those chances don't exist.
The game changed in the 39th minute, when Wolves right-back Ronald Zubar was sent off on a second yellow card for a rash challenge on Danny Welbeck near the center-field line.  He picked up his first yellow only 10 minutes early, for a foolish sliding tackle on Wayne Rooney. With Wolves down to 10 men, they moved Kevin Foley back to right back, and changed to a 4-4-1. Only 4 minutes later they used their first substitution to bring Eggert Gunnthor Jonsson on for David Davis, who suffered a fractured rib.
The Red Devils increased their lead to 2 in the 43rd minute, after Matt Jarvis took a poor corner kick that United easily headed out of the area and Javier Hernandez tracked back to gather up. Hernandez passed the ball out right to Wayne Rooney who put a beautiful lobbed ball up the right side in front of Antonio Valencia. At the center line, Valencia accelerated past Wolves Stephen Ward and gathered the ball. He continued down the field, leaving Ward 5-yards behind him. He brought it into the penalty area, with Welbeck in front of the net in support with 2 defenders marking him. Valencia took the shot from a tight angle, and beat Hennessey. This was a picture perfect counter-attack by United, with a great lobbed ball by Rooney.
With Wolves down to 10-men, United got even more aggressive pressing men forwards. It was a common sight when United had the ball to see Welbeck, Rooney, and Hernandez in the box, with Valencia off to the right and Michael Carrick at the top of the penalty area. In a move that was reminiscence of Javi Martinez for Athletic Bilbao, Jonny Evans was pushing forward from the back-four into the midfield to make dangerous forward runs.
A perfect example of this came in the 45th minute when United scored their 3rd goal of the day. Jonny Evans started the attack with a great diagonal ball out to Valencia on the right side. The pass caught Ward out of position, and Valencia put in a pass to Danny Welbeck at the top of the area, and he slotted the ball in at the near post.
Second Half
United started the second half just like they ended the first. They completely controlled possession, pinning Wolves deep in their own half. Wolves started defending deeper, which gave United more time on the ball. With this advantage, Scholes started pressing forward from his deeper lying midfield position.
In the 55th minute, United went up 4-0. This goal game off a corner that was won when Wayne Rooney took a curling shot from the edge of the box that Hennessey was just able to deflect wide of the net. Valencia took the corner short to Michael Carrick, who gave it right back. Valencia passed the ball into the right channel for Rafael. Rafael put in a cross that found Chicharito in front of the net in the 6-yard box, again completely unmarked by the Wolves defender as Kevin Foley completely lost track of Chicharito in the box to give the Mexican an easy goal.
With United easily in control of the game, Wolverhampton took off their right winger Kevin Doyle for more defensive midfielder, Michael Kightly.
Another goal for United in 60th minute started with a prolonged period of possession by United. Jonny Evans made another adventuresome run from his center-back position and brought the ball up field before passing out wide to Antonio Valencia. Valencia immediately cut inside past Ward before playing a one-two with Welbeck just inside the penalty area. Valencia brought the ball down to the byline before chipping a pass across the goal mouth to the opposite post where Hernandez came in unmarked and blasted the ball into the top of the net.
Around the time of the 5th goal, United seemed to take their foot off the gas. Michael Carrick was subbed off for 19-year old midfielder Paul Pogba. This was the second league game in a row that Paul Pogba made an appearance in after being left off the bench for weeks due to a contract dispute. United later brought in Fabio for Patrice Evra. For the next 25 minutes, United still enjoyed most of the possession but their attack had definitely lost the edge they had for the middle 30 minutes of the match. One reason was Michael Carrick coming off for Paul Pogba, who didn't play as far forward as Carrick had. As the match wore on, he started pressing forward more and got a decent shot on the edge of the box in the last 5 minutes of the match. In the 74th minute Chris Smalling came on for Jonny Evans which removed another attacking man pressing into the midfield.
The final factor for United's lack of aggression in the final 25 minutes was Wolverhampton's substitution. They took off the attacking winger Kevin Doyle and put in a more defensive option in Michael Kightly. In the 78th minute, Wolves brought on Sylvan Ebanks-Blake for Steven Fletcher. At this point, Wolves switched from a 4-4-1 to a 4-6-0, with Ebanks-Blake dropping into the midfield for defense and nobody playing as a striker. With United not pressing as many people forward in the midfield, and Wolves dropping an additional player into the central midfield, United continued to control possession but had no real attacks late in the game.
After Match-
While this was a great result for United, with the win putting the Red Devils 4 points on top of the table and cutting the goal differential with Manchester City down to 3 goals, it seemed that United was not playing at their best. Some of United's passing was very lax, especially during the first 35 minutes of the game, but as the game went along their passing got better.
Wayne Rooney was definitely the creator for most of United's attacks today, distributing the ball well from the middle of the pitch. He made 76 passes, with 86% completion, but the most impressive stat for United's talisman has to be completing 12 of 15 long balls, including the spectacular lobbed ball to setup Antonio Valencia for United's second goal. But even Wayne Rooney had problems misplaying some passes in the first half, and he struggled a bit before Wolves went down to 10-men to deal with the two holding midfielders that Wolves played. It prevented him from getting the space in front of Wolves center-backs that he's used all year to fuel United's attack.
In addition, United showed good defense throughout the game. Wayne Rooney and Danny Welbeck showed great work rate through the entire game. Even with United ahead 5-0, both could be seen running back on defense to help get the ball back.
Danny Welbeck struggled during the early part of the game with his passing, but as it went along his passing got sharper. After having some poor performances on the wing earlier in the season, the past 2 games have been great performances by Welbeck on both wings. His best play during the game tends to come when he cuts inside, and he struggled when he tries to stay outside like a traditional winger. As shown above, see how central #19 is on the right.
The other problem United had during most of the game was Chicharito's poor first touch, which stopped a couple promising attacks for United during the first 60 minutes of the game.  While he struggled with his first touch through most of the game, Hernandez has gotten better in holding up play in the past 2 league games.
Wolverhampton struggled on defense all game long, even before Zubar was sent off with a red card. Before Mick McCarthy was fired, Wolves first choice center-back pairing was Roger Johnson and Christopher Berra, but since Terry Connor took over, neither player has gotten on the pitch. The pairing of Richard Stearman and Sebastian Bassong, who is on loan from Tottenham, has given up 14 goals in 4 games. This pairing proved extremely poor dealing with Chicharito in the box. In addition, their defense on set pieces was some of the worst I've seen this season. They were poor at marking, and United's players had no problems losing their man with the most simple of moves.
By playing a 4-5-1, Wolves had a 3v2 in the midfield but they had problems throughout the entire game, even before they went down to 10 men, Foley and Davis both played deep in the midfield, to stop Rooney from getting space to operate in in front of the center-backs. While they did an admirable job, they struggled with Michael Carrick and Paul Scholes. Edwards struggled to put any pressure on United's midfielders when they had the ball. Danny Welbeck played so narrow on the left side that he put more pressure on Wolves midfield.
After being reduced to 10-men, Wolves dropped one of their central midfielders to play a 4-4-1. At this point, Wolves started to defend deeper. In addition, Carrick and Scholes got more aggressive coming forward from the midfield. This now left Wolves out manned 3v2 in the midfield, as Edwards and Davis (who was injured and later subbed off for Jonsson) struggled to deal with United's pressure. Wayne Rooney and Michael Carrick were often playing right at the top of the penalty area, which left Scholes deeper in midfield with nobody marking him. With
Wolves' central midfielders playing so deep, Carrick and Scholes were given no pressure on the ball in the midfield. They had particular problems dealing with Wayne Rooney, when dropping deep to gather the ball. He got plenty of time on the ball as neither midfield would mark him to apply pressure. This gave Rooney several chances to make great passes that carved open the Wolves defense.
Playing with Steven Fletcher as the lone striker up front, Wolves had problems getting any offense going. He got almost no service, as United did well to pressure Wolves' midfield whenever they had the ball, pressing them to make quick passes which often were square or went backwards. The little service that Fletcher got most often came from crosses which came from United's right side. Fletcher also struggled all day with Evans and Ferdinand, who both did an excellent job marking him and not giving him any space. In order to get the ball he had to track back into the midfield, and his few touches in the box came as headers from crosses.
This game proved to be a great chance for Manchester United to recover from the thrashing they took in two games against Athletic Bilbao. With only 9 games left in the season, if United can continue to put in performances like this, Manchester City will struggle to prevent the Red Devils from collecting their 20th league title.
KEY MATCH-UP-
Antonio Valencia (Manchester United Right-Wing) vs. Stephen Ward (Wolverhampton Left-Back)-
It seems that the best player of the game had to be Antonio Valencia. In an impressive performance on his first game back from a hamstring injury that left him out of the squad for a month. He caused problems all game for Wolves Stephen Ward, a former striker who now plays as a full-back, with his pace. He scored one goal, and picked up 2 assists. His first assist was on Danny Welbeck's goal that put United up 3-0. His second assist was for Javier Hernandez's second goal.
With Antonio Valencia causing problems all game, Stephen Ward was completely unable to get forward on the few attack opportunities that Wolves got. Even when Wolves got a corner, United got a quick counter-attack and Valencia was easily able to beat Ward down the right side and took the ball for 45 yards before putting in a goal.
Stephen Ward struggled to deal with Antonio Valencia, but he also had to deal with Rafael's forward runs. He had a particularly rough job dealing with Valencia when he cut inside with the ball. The winger ahead of him was Matt Jarvis, who struggles on defense, so this left Ward with no help.