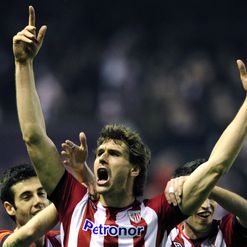 This was the second leg of the Europa League Round of 16. The first game at Old Trafford was one that Manchester United players would like to forget, after losing to Athletic Bilbao 3-2. This left United with a mountain to climb, by not only being one goal behind but also having to deal with the 3 away goals that Athletic was able to pick up.
Sir Alex Ferguson started the first game with Rio Ferdinand and Michael Carrick on the bench. He started Jonny Evans and Chris Smalling at center-back, and they struggled all day with Llorente. Rafael was at right-back, and he had a horrible day dealing with Iker Muniain. In addition, Phil Jones started in midfield with Ryan Giggs and they had problems all game with the pressure by Athletic. United got the first goal, but it was against the run of play. By the middle of the second half, United had to bring in Ferdinand and Carrick to stem the tide. But it was only because of a great performance by David De Gea that United goes into this game with the score only 3-2 on aggregate.
Lineup:
Manchester United (4-2-3-1)
Sir Alex Ferguson decided to make a few changes on the squad that struggled with Athletic Bilbao a week ago. As he's done the past few years for European ties away from Old Trafford, he went with a variant of 4-5-1 so he had 3 players in the midfield to cope with the high pressure that Athletic brought during the first game. The extra midfielder would also be able to shut down Athletic's midfield, and not give them the time they had in the first game that allowed them to make the key passes that opened up Manchester United's defense to such deadly effect.
He decided to stay with David De Gea, whose performances over the past month have shown why United paid all that money for. He came up big last week against Athletic, preventing a score line that could have embarrassed United even worse. Rafael started at right-back, even though he struggled all day against the movement and skill of Iker Muniain. The main change of the day was playing United's first-choice defensive pairing this year of Jonny Evans and Rio Ferdinand. Patrice Evra starts another game at left-back for United, and wears the captain's armband as he has during most of this season.
In midfield, there were quite a few changes in personnel and positioning. Michael Carrick started the game in the defensive holding role with Park Ji-Sung. Carrick helped the midfield last week when he came in, adding some defensive steel in an area where Athletic was dominating. His partner Park Ji-Sung was a surprising choice as he had serious problems in the first game. He started in the center midfield and wasn't able to contribute on the attack at all. Even worse, he was ineffective in challenging the Athletic midfielders and allowing them time and space which they used to make accurate through balls and lobs that carved United's defense apart.
Ahead of the two holding midfielders, Ashley Young was given the start on the left wing as he's had a great run of games the past 3 weeks and he seems to have found the form that he possessed at the beginning of the season. In the middle was Ryan Giggs, with Tom Cleverley making a start on the right wing. It was good to see Tom Cleverley back on the pitch after he missed 3 games with a slight ankle injury, but starting him on the right wing was a bit puzzling as he's shown how effective he is when he's in the center midfield. Up front, Wayne Rooney got the start as a lone striker.
Athletic Bilbao (4-2-3-1)
Coach Marcelo Bielsa only made one change on the team that beat United rather easily at Old Trafford a week ago. During this past weekend, he played most of his reserves and lost to Osasuna to ensure that his first-team would be well rested for this game. His starting goalkeeper was Gorka Iraizoz again, who had a decent first game even though he wasn't challenged too frequently. The back four included the only change on the team from a week ago, with Fernando Amorebieta replacing Markel San Jose at center-back to pair with Javi Martinez. The starting left back was Jon Aurtenetxe again and Andoni Iraola started at left-back, and also wore the captain's armband for the Basque team.
He played the same midfield with Ander Iturraspe playing as a holding midfielder, with Ander Herrera playing center midfield with him. Ahead of those two midfielders was the attacking midfielder Oscar De Marcos. Starting at left wing was 19-year old Iker Muniain who had an exceptional game last week and put in the third goal in the 90th minute. Operating up front was Fernando Llorente who caused problems for the United's center-backs last week, and put in the first goal of the game.
Athletic Bilbao's midfield is very aggressive, while Oscar De Marcos caused problems all game for United as he pressed into the penalty area frequently, and also got the second of Athletic's three goals last week. Iker Muniain often plays so far forward that the formation looks like a 4-2-2-2. He terrorized Rafael all game long, operating freely in the space left by Rafael's frequent forward runs. Muniain's quickness and pace makes him a great partner to work with the more physical Llorente, who tends to draw the attention of the center-backs, leaving Muniain with the space to create chances.
First Half
This game started where the first game left off. Athletic Bilbao was pressing aggressively on defense, not giving any United player time or space with the ball. The pressure made it difficult for United to advance the ball forward, but they were able to create the first real chance of the game.
In the 9th minute, Ferdinand passes the ball forward to Tom Cleverley, who presses the ball forward quickly before Athletic's defense regains its shape. He laid off a one-two with Rooney about 35 meters from the net and continued his run forward. Athletic's left-back, Aurtenetxe stepped forward to challenge Cleverley, but this gave Ashley Young room behind him and Cleverley hit him with a well weighted through ball. Young comes in the 6-yard box on the goalkeeper but his shot is blocked at the last moment by a goal-saving sliding tackle by Fernando Amorebieta.
Unfortunately, immediately after United's goal chance, Athletic counter attacked quickly. Rafael was caught out of position, as he has often been caught out over the two games with Athletic, and this allowed Iker Muniain some space but fortunately Rio Ferdinand came over and poked the ball out of bounds.
This highlighted a common issue, as Rafael was too often caught out of position going forward, which left Iker Muniain with large amounts of space which he used to spark some of Athletic's most aggressive attacks. Rafael was able to make a few dangerous runs forward, but too often he came forward and his runs had no effect other than to allow one of the Basque club's most dangerous players to roam the right side of United's defense unmarked.
Athletic Bilbao continued their tactics of the first game to press aggressively on offense, and bring players forward. United tried to deal with the threat of Athletic's attack by having an extra midfielder, so they wouldn't get overrun. Michael Carrick was responsible for shutting down Oscar De Marcos, who had several great chances in the first game and was able to score the second goal. Park Ji-Sung was responsible for covering Ander Herrera, and he did well on this as Herrera didn't contribute much to the offensive attacks by Athletic.
With Manchester United doing a better job at shutting down Athletic's midfield, one of the few players that wasn't marked was Javi Martinez. He often stepped into the midfield, and was able to create some dangerous attacks. In the 14th minute, Javi Martinez had the ball and was pressing forward in the midfield with nobody marking him. He eventually plays a ball into Llorente, who made an exceptional one-touch pass into Iker Muniain, who had again escaped Rafael. Muniain took the shot, and beat De Gea, but the ball bounced right off the left post. The ball deflected back out to the feet of Oscar De Marcos, who put the ball over top the crossbar of the wide open net.
Athletic did make one change from the first game. They didn't press United's center-backs with the ball, and they allowed them time on the ball. But as soon as the ball was played forward into the midfield, Athletic was quickly challenging the player and giving him no time or space to pick out a more dangerous attack option. Jonny Evans made a few runs forward with the ball, but he wasn't near as effective moving the ball into the midfield as Javi Martinez was for Athletic Bilbao.
In the 23rd minute, United's defense was still doing well in preventing Athletic from getting decent looks. United's defense managed to closely mark their players, and Muniain took a poor shot that was easily saved by De Gea. The keeper then kicked the ball away, but Athletic's line quickly gathered the ball up and put it out to the left back, Jon Aurtenetxe, who then hit a 50 meter long diagonal pass into the inside left channel to an unmarked Fernando Llorente. Llorente stood unmarked between Evra and Ferdinand, and as the ball was in the air Ferdinand tried to make up the space to him but the pass was just over his head and Llorente was able to take an astonishing volley to put the ball in the far end of the net, not leaving De Gea a chance to save it. It was a great long-range pass by Athletic's left-back, but even better finishing by the Basque striker.
After Athletic scored the first goal, United got more aggressive on offense. United did better dealing with the defensive pressure this week, but they still had problems dealing with it in the midfield. United struggled, but when they were able to get the ball down near Athletic's penalty area, they had some success as Athletic's defense struggled at times, especially out wide. In the 27th minute, United had a great chance after a long period of possession. Evra played a ball into Rooney at the top of the area, and he puts it out wide on the left to an unmarked Ashley Young. With the space he had, Young was able to measure out a beautiful cross to the back post to a completely unmarked Ryan Giggs, who took a great header but Aurtenetxe came across at the last moment to deflect the ball with his head up over the crossbar.
At this point, United started to apply more defensive pressure on Athletic's midfield, denying them the time and space they've used in the last 2 games to dismantle United's back four. They marked tighter and the increased defensive pressure helped them disrupt Athletic's attacks and win the ball back. With the lead, Athletic's defense also started to sit deeper, giving United's midfield more time on the ball. This improved United's attack, but their finishing left them down time and again.
On the 40th minute, Athletic Bilbao substituted off Fernando Llorente for Gaizka Toquero. This swap at the front of Athletic's line gave a bit of relief to United's defense. It removed Llorente's aerial threat, and while Toquero's speed is a bit better than Llorente's, he definitely proved to be an easier striker to mark then Llorente did.
With Wayne Rooney as the lone striker up front, he wasn't able to track back and help out on defense as he's done most of the year. With the third player in the middle of the midfield for United, there was enough players to deal with it, but it also limited his ability to come back to gather the ball, as he needed to stayed forward. This made it difficult to link the attacks from the central midfield.
A good example of this could be seen in the 44th minute when Wayne Rooney was able to win the ball back for United near the halfway line. He immediately started the counter-attack by pressing the ball forward towards Athletic's center-backs. As he neared the penalty area, Rooney was able to make a great pass to Ashley Young on the left side behind the defensive line. As he Iraola tried to catch him from behind, his shot was blocked by a sliding tackle by Javi Martinez.
Going into halftime, things didn't look good for United. They were now down 4-2 on aggregate to the Basque club, and had to score at least 3 goals to take the lead to deal with the 3 away goals that Athletic scored. United did better dealing with Athletic's pressure in the midfield in this game then they did in the first game. Having the extra player in the midfield also helped United to shut down Athletic's midfield, not giving them the time they had in the first game. Even though they were playing better, United needed to get more adventuresome on offense if they were to have any chance to make up the goal difference.
Second Half
It was a bit surprising as United came out from the half with no substitutions. Athletic Bilbao came out of halftime recharged, and started to press more aggressively on defense. They went back to putting pressure on the United's center-backs when they had the ball. United struggled again to move the ball through the midfield, and Athletic again started to control possession.
In the 54th minute, United was lucky to avoid giving up another goal. Dealing with the pressure in midfield, the ball was passed back to Rio Ferdinand who tried to clear the ball forward but it was deflected back by Toquero. Oscar De Marcos gets the ball and immediately presses it forward towards the area, where he passes it off to the right for Iker Muniain. Muniain then slides the ball into the inside right channel for a trailing run by the right-back Andoni Iraola. Iraola gathers the ball and avoids a sliding tackle by Michael Carrick. He moves the ball into the penalty area and steps around a challenge by Jonny Evans, then around two challenges by Rio Ferdinand before he shoots the ball just wide right of the post. It was an outstanding run and example of ball control by the Athletic fullback.
That play was a great example of how aggressive Athletic has been in bringing their fullbacks forward. United's fullbacks were also aggressive going forward, but you didn't see Athletic's fullbacks being caught out of position like you did with Rafael. Patrice Evra was better in deciding when to go forward then Rafael, but even he was caught a couple times out by Susaeta.
In the 63rd minute, United made a pair of substitutions. Chris Smalling came on to replace Rio Ferdinand at center-back while Paul Pogba made another appearance, this time replacing Michael Carrick as the holding midfielder. These two substitutions seemed to signal that Sir Alex Ferguson thought this game was out of reach and he wanted to ensure that two of his most important players would get injured while United gets set for the final 10 games of the season.
To make it clear, in the 65th minute Athletic Bilbao was able to put in another goal. The play starts with a long forward diagonal pass by Chris Smalling for Patrice Evra, who can't control it and is now caught forward. Susaeta plays the ball to Iraola, who holds the ball up and gives it back to Susaeta. Iraola now makes an overlapping run down the touchline and gets the ball back as he's 10 meters past Evra who is racing to get back in position. Iraola then takes his time and puts a nice cross to the edge of the 6-yard box and it's headed away from Toquero by Chris Smalling, but the ball gets no further than De Marcos, who makes up for his earlier miss and slots the ball in the net off a slight deflection by Rafael.
In the 68th minute, United puts Danny Welbeck in for Ryan Giggs and this changes United's formation back to their usual 4-4-1-1. Danny Welbeck is the striker up front, with Wayne Rooney just behind him. Ashley Young is out on the left wing, while Tom Cleverley stays out on the right wing. In the middle, Park Ji-Sung and Paul Pogba are responsible for the central midfield.
With this formation, Rooney is able to get active coming back in defense and coming back to pick up the ball. In addition, Danny Welbeck also shows his industry by coming back on defense to help United get the ball back.
The good news for United is how Athletic has struggled with their finishing. They had several opportunities in both games, and a prime example was in the 74th minute. Again the attack started on United's left side when Susaeta took the ball off of Young and passed it into Iraola, who was almost on United's byline, before he brought it into the penalty area and chipped a cross into the area that Toquero headed over the net. Toquero was completely unmarked as Smalling lost him, and he ran in front of Rafael to head the ball from 6 yards out but put it over the net.
In the 79th minute, there was another play that highlighted the poor finishing by Athletic Bilbao but also how frequently Manchester United's fullbacks are caught out of positioning. Patrice Evra again is caught out of position, so Susaeta has time on the left side to play a long through ball in the right inside alley to De Marcos. Evans races next to him and is able to pressure De Marcos just enough that he hits a weak shot that De Gea is able to deflect away. Unfortunately it gets no further than Susaeta whose half-volley goes over the bar.
In the 80th minute, United was finally able to get a goal. After wasting a couple opportunities early in the game because of poor finishing, this goal was needed. Wayne Rooney was entire responsible for creating this goal, as he took a pass from Danny Welbeck just outside the penalty area when he shifted back to his right foot and took a snap shot to the upper right corner of the net that Iraizoz had no chance to save.
Athletic Bilbao made a couple substitutions with less than 10 minutes left in regulation, bringing on Inigo Perez for Ander Herrera and then Mikel San Jose for Iker Muniain. Perez settled into Herrera's position, while San Jose went in as center-back and this put Javi Martinez forward into the midfield. With so little time left, United still kept trying to attack with quick counters. Their last spark was a fast counter attack in which Rooney passed to Welbeck, who took a quick shot just at the top of the area that Iraizoz was able to deflect wide.
This game ended with each side splitting possession 50%/50%, which is better for United then in the first game. Athletic Bilbao took 18 shots, with 6 of them on target, while Manchester United managed only 2 shots during the game, both of them on target.
Conclusions
Manchester United had a bad pair of games against Athletic Bilbao. Athletic's aggressive, pressing defense made it impossible for United's central midfielders to have any time with the ball, which they've used all year to pick out passes to setup the attack. Without this time, United had a hard time moving the ball up the middle of the pitch. United struggled with their finishing throughout the game, and missed several opportunities to take the lead in the first half. Athletic Bilbao also struggled with their finishing, as they had several chances to at open nets which they either put over the crossbar or wide.
The decision to use Wayne Rooney alone up front was a curious choice, as Athletic Bilbao's high defensive line is ideal for a player like Chicharito or Danny Welbeck to take advantage of. With the high line, there are chances to play the ball either over the back line or a good through pass is able to get one of them behind their line for good goal opportunities. This would have been effective during a quick counter-attack, which ended up being what most of United's attacking opportunities were. While Rooney is good at many things, this type of play isn't really his strong suit. In addition, by having Rooney up front on his own, he's not able to track back and make his usual defensive contributions. Having the extra player in the center midfield helped mitigate that loss, but it was still noticeable not having Rooney tracking back to get the ball.
Another selection that was curious was playing Park Ji-Sung in the central midfield again, after he really struggled last week on offense and defense. He had a better game today on defense, largely keeping Ander Herrera out of the attack, but his offensive contribution was minimal again. Sir Alex Ferguson decided to play Park Ji-Sung in the central midfield alongside Michael Carrick while playing Tom Cleverley out on the right wing. We've seen this year so far that Tom Cleverley can make some great plays in the center midfield, and his good plays today came when he ventured inside during the first half. Would it not have been better for Sir Alex Ferguson to play Tom Cleverley alongside Michael Carrick and put Park Ji-Sung out on the right wing?
Each team had spells where they were able to defend the midfield effectively. Each team had spells where they were able to defend the midfield effectively. During these spells, it was often left to a CB to come forward and assist the offense. Javi Martinez had a few opportunities when he came forward to help the offense, including their attack in the 14th minute. On United's side, Evans made a couple of adventuresome runs forward but he was never really able to contribute on the attack.
United struggled all game with possession due to Athletic's pressing defense, but United had some success when they were able to get the ball into Athletic's final third. They were able to pass effectively and move the ball out wide. But they had problems with finishing, and Athletic's center back pairings made a few excellent blocks.
Joe_Hammer (@RangeRooney)