Ok, so this is England and we're Manchester United fans. Apparently, by default that should make us despise England's National team and poke fun at it, but for me that's just way too stereotypical so, having been asked by Bwin to give them my England Dream Team, that's exactly what I'm about to do.
In my opinion Roy Hodgson was appallingly treated by the sham of a newspaper that is (I'm not even going to name it, we know which one it is that has the lowest standard of all newspapers….and that's saying something!). With the FA (yes I know we're supposed to hate the FA too but I'm sorry, I'll hate the things they do to United that I feel were unfair but I'm not reverting to type and hating them per se) promoting Respect and Anti this-and-that campaigns, it was important to hire an England manager that fit in with their 'vision' and their future preachings.
It's with that in mind I think they chose the much educated, highly intelligent and well spoken services of the well travelled, fairly successful Roy Hodgson instead of the illiterate and possibly (no one can ever get any dirt to stick despite the dirt following him around from club to club over many years) bent Harry Redknapp.
Despite that decision, the newspaper in question believed that bullying the new kid on his first day was a smart thing to do, hopefully Roy can prove the decision to hire him is as smart as he is and the newspaper can one day help to push the campaigns to make this country's footballers better and more respectful.
However! The fact Roy hasn't included Michael Carrick in the squad suggests he isn't quite as intelligent as he makes out. Rio Ferdinand's omission is questionable but understandable, John Terry's inclusion is just unbelievably poor judgement and ignoring Matt Jarvis is criminal!
The state of English football is a mess, simple. You only need to look at the three (now four) chosen keepers and the four chosen attackers in the England squad to cross Europe and do battle this summer to realise that.
My Euro 2012 England Dream Team would be:
1. Joe Hart: Easily the best English keeper by a country mile at present and potentially as good as many of the greats such as Banks and Shilton.
2. Kyle Walker: Had a tremendous season with Spurs but unfortunately injured so misses out. Ventures forward, supports attacks and knows how to defend when needed. Not perfect but still learning, his potential is there for all to see though.
4. Chris Smalling: Another who misses out due to injury but in my opinion the answer to England's centre back berth for years to come. Confident on the ball, intelligent and fast. Again still learning and prone to lapses of concentration but the best England has to offer right now.
5. Gary Cahill: Has improved since his move to Stamford Bridge and playing and training with better players again next season will see him make the next step up. A dogged defender who's determined and has the heart of a lion.
3. Leighton Baines: Just keeps getting better with age. At 27, Baines will be making his first appearance in an International tournament if he forces his was ahead of Ashley Cole. Baines possesses great pace, a lethal cross and offers the added bonus of being a decent freekick/set-piece taker.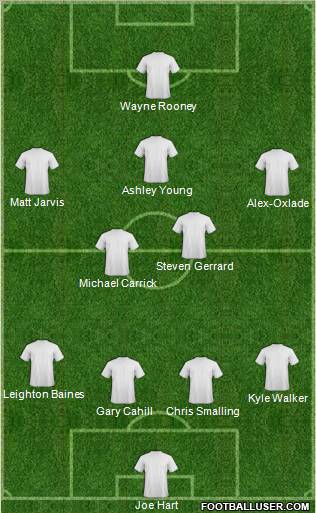 6. Michael Carrick: Inexcusably omitted from the squad. Michael is the best midfielder in the country right now. His passing accuracy, his intelligence to intercept, his new found willingness to drive into open spaces and his eye for a key pass would make him an absolute shoo-in. Shame on you, Roy.
8. Steven Gerrard: What can a United fan say about Gerrard without pulling a face? Not much in truth, but, it's difficult to argue he's anything short of a fantastic, dynamic central midfielder with power and pace and an influence that could, if harnessed correctly, drive the entire team.
7. Alex Oxlade-Chamberlain: Young and unproven BUT extraordinary pace and power for his age and a directness that's channelled and controlled with composure far beyond his tender years. Could well be the star of the tournament given the platform and the ball.
11. Matt Jarvis: Easily the the most talented English 'winger' and another shocking omission from the squad. Jarvis is industrious both in attack and defence. He has that rare English skill of being able to dribble and he can find a enough space in any situation to deliver a cross into dangerous areas with impressive frequency, with either foot, a rare talent who's overlooked by many.
10: Ashley Young: A confident Ashley Young is a difficult animal to contain. Always looking to outwit his marker, Ashley darts infield, upfield and back again to receive the ball either to feet or in the channels. Either way, wherever he collects the ball he's a danger and WILL create chances for himself and his team mates. Has the potential to be England's star man.
9: Wayne Rooney: Wayne scores goals because Wayne instinctively knows where the goal is, unfortunately Wayne likes to get involved in deeper areas. If Wayne concentrates on playing forward he could easily bag himself a barrel full of goals, but can he keep his temper while those around are keeping theirs or trying to rid him of his? He may have cleaned up his act at club level but at International level, surrounded by players frustrating him both with him and against him, it's anyone's guess.
If you're mad enough to think England can win the tournament in Poland & Ukraine, you can get odds of 12/1 with Bwin.
Good Luck!