Derby weekend is here! This Manchester derby could well be the most important game of the season, as a win would put us 6 points ahead of the noisy neighbours and going into the new year, it's a very, very good lead. With both the teams full of injuries and out of form, the line-ups will be a major part of what wins one team the game.
Here is what I think should be our line-up, with reasons as to why each one of those players has been put into the team.
David de Gea: In my eyes, David is our number 1 and should definitely get the nod. His shot-stopping is absolutely magnificent (not to mention his ball distribution). Some may disagree with this choice purely because they think Lindegaard is better in the air, but that isn't really the case anymore. The Reading game showed us the Anders is just as uncomfortable with high balls and crosses as DDG is, if not more!
Rafael: This young man from Brazil has showed us exactly how good he is with a string of brilliant displays this season. He has matured into a confident wing back who makes lots of forward runs, has a solid work rate, and he isn't afraid to tackle! What more can you ask of him?
Rio Ferdinand: In games like these quality isn't the only thing that matter, teams also need to have experienced players on the pitch. Rio is a mix of both top quality and experience, is a born leader, and plays very well under pressure. With Vidic out injured, we need Rio to keep calm and mentor his younger defensive partner in tough situations.
Chris Smalling: Now you may wonder, why Smalling? Why not Evans? I'll tell you why. As good as Evans has been this season, I believe Chris will do a better job as he is taller, stronger and faster! City are very dangerous from set-pieces and we need a player like him to take care of those free-kicks, corners and throw-ins.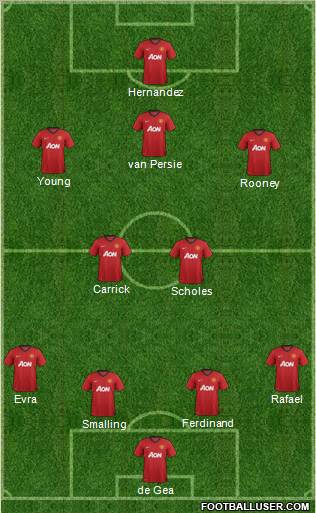 Patrice Evra: Patrice has seen his form come back (after two terrible seasons) since the arrival of a certain left-back called Alexander Büttner. With a blend of pace and skill, Patrice is a danger going forward and is very good defensively. He's unquestionably the best left back at the club, and deserves to start every game.
Michael Carrick: Do I really need to explain anything here? Carrick has easily been our best and most consistent midfielder this, and last season. He's United's Mr. Dependable
Paul Scholes: With all our dynamic midfielders out injured, we need someone to string through the passes with a wee bit of creativity. Who else but Paul Scholes can do this?
Ashley Young: With three of City's wing backs out injured, we need some width to exploit their weak areas. As mediocre as Ashley Young has been, last week against Reading he showed us a glimpse of the form he had when he joined us last season. Let's hope that 'form' carries on
Wayne Rooney: The man who holds our team together, be it as a striker or as
trequartista. Quite easily the most effective player on the pitch whenever he plays. With a couple of goals last week (he also has a league best 7 assists), Rooney looks like he's entered one of his 'spurts' of scoring so to say. Now who wouldn't want Rooney to score a screamer like he did 2 seasons ago!
Robin van Persie: Premier League top-scorer last season and current joint top scorer this season, he's the most likely player to get us a goal. I don't think he's stepped a foot wrong in any game since joining United. Should (quite easily too) be the first name on the team sheet.
Javier Hernandez: Now you may argue that Chicharito is more effective coming off the bench than starting a game, and I will agree, but only if it's for any other game. But not against City, not against Joe Hart. What we need to keep in mind is that Hart has a tendency to parry the ball into the danger area. Being the poacher he is, Chicharito can take advantage of that and get the all-important goal!
What does your teamsheet look like?