free bets on Real Madrid avoiding Barcelona had there been a market, as it is, the draw has kept the distinct possibility of that becoming the glamour final of glamour finals.
To the governing body of European football, the Champions League draw must be the equivalent of watching the premiere of a thriller already knowing who the killer is or if our heroes will make up and live happily ever after.
Because, you see, those canny old heads that somehow rule European football, like to leave the climax as late as possible, to engage the viewers until the end, like consummate filmmakers.
With the draw for quarters and semifinals done, we have a picture that is slowing nearing completion and that could see the final that UEFA dreams of: Barcelona against Real Madrid – the classy Pep against the arrogant Mourinho, Barca's kids ( stop talking about Villa, Sanchez and Alves. Barca don't buy players for hefty fees in the market) against Real's costly assembled team, Barca's tiki-taka against Real's antifootball, Messi versus Ronaldo.
Of course, Milan and Apoel might crush the Spanish teams' dreams in the quarters, but why spoil the party?
Why ruin such a perfect plan which sees Bayern Munich facing Marseille in the quarters, before progressing to a glamorous semifinal against Ronaldo and company, only to see a home final snatched away from them?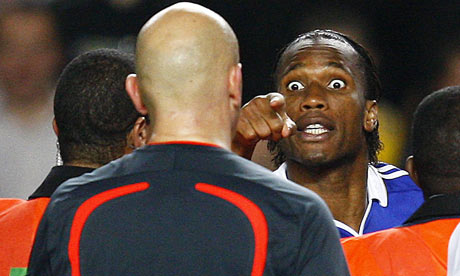 And, what an advert for the European championships that would be: Spain and Germany's finests (ok, almost) one against the other two months before the final of Euro 2012.
And what about the other (potential) semifinal? Barca against Chelsea, the game that will present the Blues with the chance to rectify the injustice suffered in 2009 when they were knocked out by a late Andres Iniesta's strike, albeit in controversial circumstances.
Make no mistake, Barca and Real are the best teams in the world, and not even the finest United side in recent years would have had if easy against them and, despite Fergie claiming otherwise, it's perhaps a touch off the mark to say that, had they not been humbled by Basel, United would have set up a rematch of last year's final.
Fantasy football? Perhaps, but don't get offended if, in six weeks time, SKY SPORTS decide to bombard the public with adverts describe Real-Barca as the most anticipated final in years.
After all, UEFA are quite good at planning.
Daniele (@MUFC_dan87)