It's awards night at Old Trafford tonight and one can only feel there'll be an air of regret and dissatisfaction in the room after yesterday's high's-and-low's saw players and fans alike begin to dream the impossible before being Earth shatteringly brought back down to Earth in the space of just a few short seconds.
But is it all bad news? Is it all doom and gloom within Manchester United?
Look, the first team will come back stronger next season after the experience of this one, but in truth the stats suggest they've enjoyed an enormously successful season despite finishing it empty handed.
Okay so the European efforts were perhaps not befitting of a 21st Century Manchester United, nor were the domestic cup runs for that matter, but take a look at the league and the fact this United team ran City to the final two minutes of the campaign that's seen United's physio room have less empty seats than the Etihad Stadium itself at times, and you start to wonder just how the squad, and the gaffer, have mustered such an achievement.
The Reserves, under a much courted Warren Joyce's superb guidance, have won their regional division and then beat Aston Villa in a dramatic penalty shoot-out to claim the National Reserves title. The team has also reached the final of the Manchester Senior Cup using predominantly last season's Academy team, great progress for that crop of players. That game will be played out on Thursday evening at The Etihad against Manchester City…….a trip I'm sure many loyal reds aren't relishing or even considering boycotting now.
As for The Academy it's been, certainly in my view, an unbelievably successful season despite also finishing it empty handed and suffering a winless streak that stretched itself over five months!
When I think back over the entire season it's easy to see who have been the bigger, more influential players within this group and these players have stepped up and shone at different stages of the season. As with the first team the Academy Under 18's have suffered from injuries forcing Paul McGuinness to request players play in unfamiliar positions for a fairly sustained period of games.
Luke Hendrie for instance, a central midfielder with a fiery determination and an eye for goal, played more games at right back than centre midfield. Charni Ekangamene, again, a central midfielder, was deployed at leftback while Tyler Blackett shifted from there to centre back to cover a shortage there!
Right across the defence McGuinness began the season with problems, but to be fair to Luke and Charni they never shirked their responsibilities or gave less than 100% despite both have serious and obvious flaws at fullback which many times in the opening few months cost the team goals and ultimately points. To Luke's credit, when he returned to central midfield his influence during the FA Youth Cup encounter with Derby County was evident.
Luke McCullough picked up an injury in an youth cup tie which saw him miss a month or so while Tom Lawrence missed 6 months of the season yet astonishingly finished as United's second highest goalscorer and probably has 4 of United's best goals of the season. I can't help but feel that had Lawrence not missed any, or at least not as much of the season, he'd be a shoo-in for tonight's Academy: Player of the Year award.
Spectacular efforts against Torquay in the youth cup, a similar effort in the final game of the season against Stoke at Carrington, a dipping, swerving effort at Crewe the week before in his first start in 3 months, and the elegant bending shot he placed into the top right hand corner at Blackburn earlier in the season, are all arguably candidates for Academy: Goal of the Season.
That Blackburn fixture also saw Joe Rothwell, a fully concentrated, quick passing and moving central midfielder, blast a strike worthy of the accolade.
Joe was another player who, just as he was starting to influence every game, picked up a nasty injury that meant a lengthy layoff. 4 months to be precise. Joe's another one who could be vying for the PotY award had he not picked up the hip injury that saw him hit the floor at Bolton like he'd been shot by a sniper. He was wheeled away on a four-wheeler cart that day but on his return proved why's it's highly likely he'll form half of the midfield duo that the manager prefers in his now almost perfected 4-2-3-1 formation.
The second of that duo will likely be Ben Pearson next season. That statement looked a highly improbable one to make earlier in the season shortly after he nervously gave the ball away under no pressure towards the end of the game versus Wolves at Wolves. United were already struggling and on the end of a comprehensive lesson and result. After Ben gave it away Paul McGuinness put his head in his hands and shook it as the simple mistake led to the inevitable goal, such was the nature of United's opening to their league campaign, every mistake, every 50-50, every lucky break, went against them and they were seemingly punished for every error.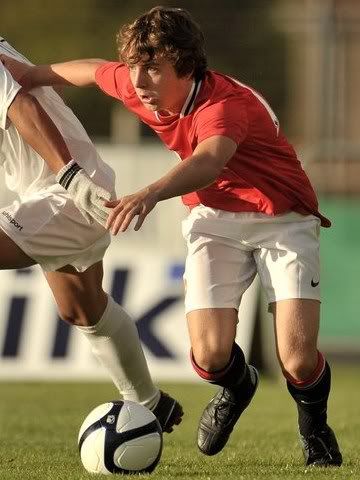 Ben was yet another to suffer a lengthy layoff when he contracted glandular fever and missed 4 months of his own. On his return though, it was easy to see why McGuinness had opted to utilise Ben in central midfield alongside Rothwell. The pair have played together at United for years and it shows. Ben's tenacity and support play sets him apart from the majority of players in the squad. His constant movement and subsequent availability to his teammates ensures he's a popular figure when picked to play.
Jack Barmy, son of ex-Hull City manager Nicky, had a remarkable scoring season scoring in every round of the youth cup. Jack's goals won games and without them it's hard to see how United would've progressed all the way to an impressive semi-final appearance in the youth cup. Jack however has a tendency to get frustrated with himself and if things aren't going his way in the first 15 minutes of a match he lets his head go down and the frustration show. On his day though Jack has proved he's a talented kid with an eye for goal, a trick or two and most ethal of all, a powerful shot. This shooting ability can be best observed by watching his powerful strike away to Liverpool in a 2-1 defeat all the way back in October when again United suffered defeat due to their own errors. That goal would probably be Jack's leading effort in the Goal of the Season award.
Other notable players of the season would be the emergence of Liam Grimshaw at right back. Liam's been ever present since his Academy debut away to City just 3 months ago and proved to be a decent asset both with and without the ball.
Gyliano van Velzen has progressed immensely from last season but, for me, still isn't likely to collect any PotY awards any time soon. Yes he's tricky and yes he can beat a man (time and time again!……that's the problem!) but his inconsistent performances coupled with his timid nature appear to hold him back when the games take a turn for the worse and he's set upon in a physical nature. I'm not sure he'll appreciate the kind of treatment he'll receive in the Reserves next season.
Adnan Januzaj was yet another player to suffer an injury which kept him out of the side, and still does today, his injury was expected to keep him out well into this summer but the slightly-built Belgian displayed a great touch after making his debut away to Wolves. Adnan, in a similar way to Lawrence has an eagerness to go direct and run at players, the difference between the two though is Adnan likes to weave his way towards the byline and looks up for a teammate whereas Lawrence heads towards the edge of box to find shooting opportunities. Adnan will, fitness permitting, form the creative head of the attacking midfield next season although he'll face stiff competition from Andreas Pereira and others who have impressed in recent weeks, he could also see a challenge from the eagerly anticipated Josh Harrop who steps up from the Under 16s.
Tyler Blackett had a great start to the season but fell away of late, he's been involved in almost every Academy fixture this season often partnering the very very impressive schoolboy Nik Ioannou at the heart of defence. Tyler for me represents the most realistic chance of any of this years advancing 2nd years to receive first team minutes next season, especially as the club is possibly desperate to find a long term replacement for the aging Patrice Evra.
So that brings us to who will claim The Academy: Player of the Year Award 2012.
There can be only one player in with a realistic chance of collecting the award; Mats Daehli.
Mats had a quiet start to the season and again that game against Wolves stands out as Mats' low point. Shoved out on the right and unable to get into the game, Mats looked bereft of ideas and dead on his feet. He'd been on International duty and suffered a minor injury before returning; a week later he was shifted into a central attacking role where he developed and flourished in Lawrence and Januzaj's long term abscence with the freedom to roam and dictate play. His balance and passing has impressed throughout as has his dribbling. His finest hour arguably came at The Liberty Stadium where he frightened defenders to death and became provider in chief or at Carrington when his brace gave United their first consecutive wins of the season at Carrington against West Brom.
Potentially a great player.
So, to the questions 'is it all doom & gloom and bad news?' the answer in my eyes is carergorically no. Welbeck has advanced through and challenged for last night main award in 'Fans Player of the Year' award, Tom Cleverley would, barring injury, have also featured in the shortlist for the award. Both players gradually proving our Academy IS working and IS producing top top talent.
The success of the reserves and the nomination shortlist for their player of the year (Michael Keane [Winner], Larnell Cole and Jesse Lingard) is completed by two of last aeasons academy favourites and won by one of the most rapidly improving players the club's seen for years.
If you get a chance to watch the academy and see how they play for yourselves, you should take it, and marvel in the technically adept way they can keep the ball and advance up the field. Next season sees a raft of players advance from 1st year to 2nd year scholars and it promises to be one of the most attractive football playing sides the academy has seen, so of course it's not all doom & gloom, no way is it all bad news.
United need their Academy more than ever right now and thankfully the signs are good.
************************************************************************
Nominations:
1. Jack Barmby
2. Mats Daehli
3. Luke McCullough
Winner: Mats Daehli.
Well Done.